A23 Alkaline Battery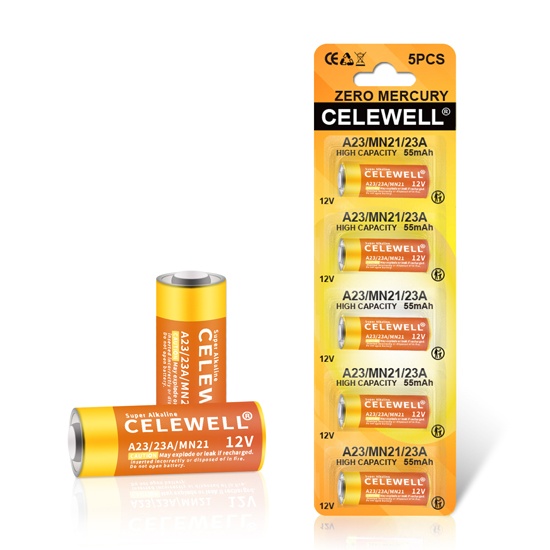 Features

55mAh HIGH CAPACITY: The more capacity the battery have, the longer you can use. No need to change batteries quite often.
ECO-FRIENDLY: Zero mercury in the batteries will protect our earth and our body. CE/RoHS/ISO9001/MSDS environmental friendly certificates passed.
SAFE PACKAGE: 2pcs sealed in a card to keep every single battery separated. Safe to store and retail. Bulk package may cause short-circuit which may bring you dead batteries.
APPLICABLE DEVICES: Ideal for alarm, wireless doorbell, garage door openers, flashlight, ceiling fan, fireplace remote control and so on.
MULTIPLE REPLACEMENT: A23, 23A, 23AE, MN21, GP23AE, L1028, 21/23, A23S, V23GA, MN21B2PK , A23bpz, GP23A, LRV08, RVO8, MS21, E23A, K23A, 8LR932, 8LR23, VR22, 8F10R, EL12, 23GA because dmensions and voltage of them are the same.




Specifications
Brand: CELEWELL
Model: 23A battery
Voltage: 12 Volt
Capacity: 55mAh
Dimensions:
Diameter 0.41'' Height 1.12''
Package: 2pcs safely sealed in a card, convenient to retail or store or transport.
Shelf life: 3 years. Manufacture date and expiration date are printed on the card which will help you identify how new the batteries are. Old batteries may have very low power.
Applications: Mainly used for garage door open remote control, doorbell, car alarm remote control, burglar alarm remote control, lighter, keyless entry access control devices, toys and other electronic equipment
Warranty: 1 year by CELEWELL